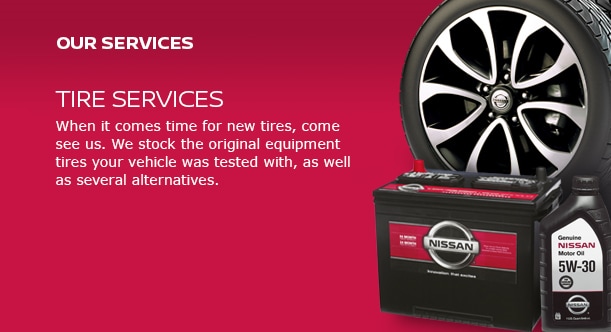 Nissan Tire Center in Torrington, CT
Let the Pros at County Line Nissan North in Torrington Equip Your Car or Truck with a New Set of Wheels
It's that time again. The time in the life of every vehicle, new sedan or hatchback, SUV or truck, Nissan of off-brand model, when the old balance, rotate, and repair trio no longer makes the grade for your tires.
There's no more tactful way to put it, unfortunately. Tire treads wear out on the roads of Bristol CT. Rubber tears in parking lots from Farmington CT to Wolcott. That tried-and-true "penny test" fails in your Watertown CT driveway, leading you to curse that rhyme, "stick a penny in the tread, see the top of Lincoln's head." Worst of all, your tire pressure seems to tank all the time on the way out to Plainville CT, and for no reason you can figure. To blame: Mother Nature and Father Time. Both take their toll on the set of wheels you've known and loved. It's time for some new ones and your drive to chart a whole new course. However, no search for new tires should take one all over northwest Connecticut. Luckily, there's a solution right here in your neck of the Constitution State woods, Torrington. That's us.
Our Nissan dealership's tire center isn't only fully stocked with many of the latest, most popular, and best-regarded brands. We also take care of all tire installation, rotation, and balancing in-house, with a team of Nissan service technicians second to none at the helm. So, you can rest assured that, whatever your tire needs, winter/snow or summer, all-season or high-performance, run-flat or low rolling resistance, we'll help you get back on the road in no time.
Have questions about tire service? Looking to talk shop about a new set? Give our tire center here at 522 Winsted Road in Torrington a call or send us a message via our website. We'll get back in touch promptly to discuss what you need. You can stop by for a consultation, too, should you prefer something in-person. We look forward to helping you get back behind the wheel!
Tire mount/new tire installation/snow tire installation
Wheel alignment and balance
Tire rotation
Tire pressure check
Tire repair
Frequently Asked Questions:
How do I know when I need new tires?

If you see any bulges or cracks in your tires, it's definitely time for a new set. Also, if you notice tread wear, you need to replace your tires. To check for tread wear, you can use the penny test: stick a penny into the tread, with Lincoln's head pointing down. If you can see his whole head, your tires are too worn and it's time to replace them.  If you're not sure if you need new tires, ask our technicians to take a look.

What is the proper air pressure for my tires?

To find the correct air pressure for your tires, check the tire's sidewall and your owner's manual. You'll find the PSI number on the tire's sidewall, which indicates the maximum inflation pressure. But since proper tire pressure also depends on the kind of vehicle you have, be sure to check your owner's manual as well. If you're still not sure, our technicians would be happy to help.

What's difference between summer, winter and all-season tires?

Summer tires are best suited for relatively warm conditions; they have less grooving and provide great traction on a dry road. Winter tires are best for driving in cold, snowy conditions; they are made with a different rubber that won't stiffen in the cold, and they have grooves designed to avoid snow build-up, while providing traction through snow and ice. All-season tires can perform in both warm and cold conditions, but are best suited for light winter conditions.